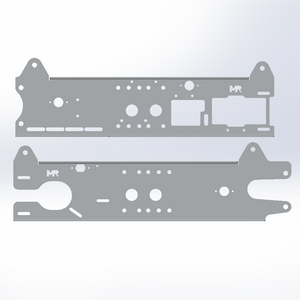 Left and right side panels for the Gilera Citta Standard Subframe. These side panels are for customers who have an existing (older) model MOPARTS RACING Subframe and would like to upgrade to the newer side panel layout, as well as for customers who wish to create their own centerpieces.
Does not include

 

any screws, bolts and washers
Does not include

 

centerpieces
Material: Stainless Steel 304
Thickness: 3mm
Updated Kickstart and Side-Intake Readiness!
Contains a bigger slot which makes it easier to access your carburetor when running a Malossi MP-One/Reed Valve Engine or a Polini Evolution Engine. Stock Piaggio engines as well as Polini Speed Engines also have excellent accessibility to the carburetor.

Added Additional Pedal Shaft/Axle Holes
A second set of pedal shaft/axle holes were added behind the primary pedal shaft/axle holes creating more space behind the engine in case you are running a reed valve engine with a larger carburetor.

Updated Mounts for Plastic Side Covers
Bigger groove in the vertical side cover mounting plate.
Updated Exhaust Mounting Slots
Four slots are included in the right side-plate to mount your exhaust or muffler. These slots are now 8mm wide to accommodate both 6mm as well as 8mm bolts.

Updated Cable Mount
This updated cable mount has been extended to create more clearance between the subframe and rear brake cable, which makes it easier to bolt the brake cable holder-nipple into the subframe's brake cable mount.